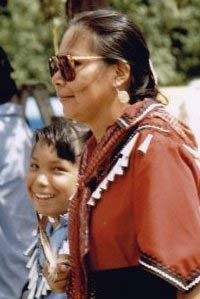 January 31, 1955 to January 14, 2010
Lorraine Kenny was born at Kejick Bay in Lac Seul First Nation to John and Mary Elsie Kenny on January 31, 1955. She attended and is a survivor of three Indian Residential Schools: Pelican Residential School near Sioux Lookout; Shingwauk Residential School in Sault Ste. Marie; and, Cecilia Jeffery in Kenora. She received a Bachelor of Arts degree from Laurentian University, but continued to learn and develop all of her life.
Lorraine focused on her family (including her brothers and sisters and their children) and her work for the betterment of her people. She was wife to Brian Beaton; mother to Leilani, Clayton, Serena and Stefanie; and grandmother to Alliah, Chloe, Jordan, Chalise and Tristan. Her family was her joy and her work and spiritual journey were her passions.
She was instrumental in starting up many organizations and movements to support Aboriginal women, families and children, and the survivors of residential schools. The 2004 Pelican Falls Residential School Gathering video highlights Lorraine's love of others and all the children.
She was an author and teacher, working for more than a decade in developing the Raising the Children Manual as well as the Resiliency Workbook for Residential School Survivors. Lorraine was a lifetime member of the Sioux Lookout Anti-racism Committee and the organizer and leader of five Sioux Lookout Women's fundraising canoeathons.
She lived courageously and healthily with breast cancer from 2004 until her death in January 2010. Described as warrior, "spark-plug", mentor, Elder and beloved friend and relative, her spirit continues to touch and inspire everyone who knew her.
Lorraine Kenny and her family live with breast cancer
Lorraine was diagnosed with breast cancer in August, 2004 at the age of 49. Following her mastectomy in December, her physician and oncologist both emphasized that she should begin chemotherapy without delay.
As with so many other things in her life, Lorraine swam bravely against the current. After meeting with trusted Elders late in December 2004, Lorraine made a courageous decision not to pursue chemotherapy. Despite pressure from her doctors and from the world at large, she held unwaveringly to her decision. Instead, she focused on traditional medicine, exercise, nutrition, prayers and meditation, and ongoing consults with trusted Elders.
For five years she lived happily, courageously, and healthfully. She created this powerpoint presentation, Living With Breast Cancer - Our Personal Journey, for the Wiisokotaadwin health conference in Kenora on February 15, 2005. She continued to share her story and her experiences with other women, both Aboriginal and non-Aboriginal, for the rest of her life.
Lorraine died peacefully at home in Sioux Lookout on January 14, 2010.