This was posted by Angie Morris-Fiddler on her myknet homepage, http://angiemorris.myknet.org, on August 17, 2010. Thank you Angie!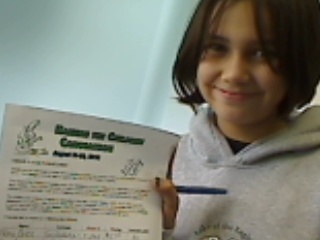 This is Alliah Kenny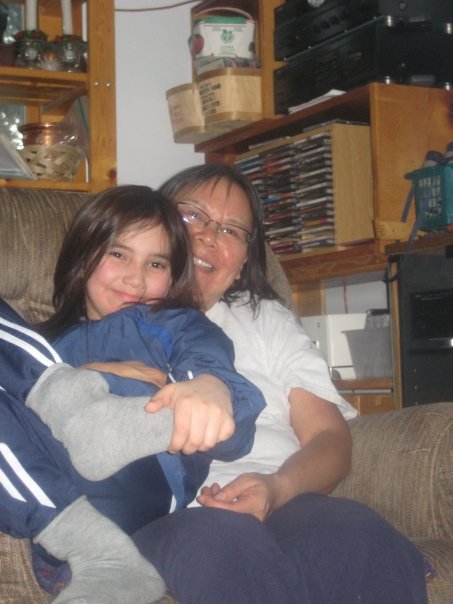 This is Alliah Kenny and her Kokoom Lorraine Kenny who passed away January 2010.
I luv Alliah...she is one of my daughter Mya's closest friends and also a very sweet ATHLETIC girl.
Alliah currently lives with her Grandpa Brian (Lorraine's hubby) but she's always been Kokoom's girl ever since she was born.
Alliah's Kokoom passed away this year after 5 years of living with breast cancer.

Lorraine loved...LOVED being a Kokoom! She lit up whenever one of her five grandchildren were around or were even mentioned.
Children have always been a passion for Lorraine....children and helping in the healing of our people from the effects of Residental School.

The summer I was 18, I made the tough decision to stay in Sioux Lookout to work for the summer.
My daughter was living with my parents that year and it was hard but it was also something I needed to do.
I got a job at Equaywuk as a library assistant. One of my duties was to pack and ship up copies of this unique parenting manual called
"Raising the Children" A training program for Aboriginal Parents.
After packing about 15 boxes...I was curious..."What the heck are these documents that I'm always packing?"
So on a slow day I took sometime to review a binder....

WOW!!
it was GOOD STUFF!!!

unique and something our people needed.
We always hear about and LIVE with with the loss of our traditional ways because of residential school.
Especially the parenting practises of our people.
In my hands was a resource that felt like it was written for me and for my people...wow..it blew me away.

For the rest of the summer I'd read from this document and packed & shipped atleast another 75 copies to various communities.
If you go to your band office or health facitility...dig around...I'm sure you'll find a copy of it.
I know I shipped at least ONE Copy to each community that summer..lol

The funding ceased for this particular project but Lorraine found a way to carry it on.
She started a canoe-a-thon to fundraise for the program.
She'd gather her family and friends to canoe for the weekend...collecting pledges and contributing whatever was fundraised to the program.

Though Lorraine has passed on to the spirit world her legacy lives on!
and Alliah is working on making sure her Kokoom's legacy lives on

Alliah is participating in the fundraising canoe-a-thon that's happening this weekend and she needs your pledge!

I mean come on...how can you say no thanks to this sweet face??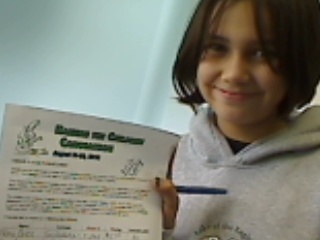 She is working on towards a better future for our people...why not contribute to that?
I mean she is going to be paddling all weekend...LOL
I pledged 25 bucks to her already and another 25 to another paddler...
contact me if you want to pledge...and I encourage you too pledge
Also check out the Raising the Children website link I've provided below...it's a very neat one of a kind resource.
We all need to look at our current parenting...is it working? is it?
if it was...then why are our children killing themselves?, drugging and boozing themselves...harming each other in a violent way?
WE SERIOUSLY NEED TO MAKE A CHANGE
our children are dying and killing themselves...and it's up to us PARENTS & Grandparents to do something about it.
No one else is going to step up and save our kids....
so if you want to pledge...contact me 737-5980 or Ywoodstock0530@yahoo.ca or email me at angiemorris@knet.ca
ANY AMOUNT IS APPRECIATED
and Alliah will paddle hard...lolIf you are a parent and need a resource to help you out..I urge you to check out this parenting resource...
there's nothing else like it